RETRAC aerodynamic mirrors are designed to help make your heavy-duty truck or semi as efficient as possible, featuring an innovative aerodynamic shape. This smooth, rounded design allows the wind to pass over the mirror head unhindered, greatly reducing drag and maximizing the efficiency of your truck.
Aerodynamic mirrors also add a professional touch to your vehicle -- both in safety and appearance -- featuring large, non-glare glass and two finish options.

Key features and benefits
Extra-large, non-glare glass

Universal clamp system

Smart heater option

Motorized or manual adjustment

Lighted backing available

Two finish options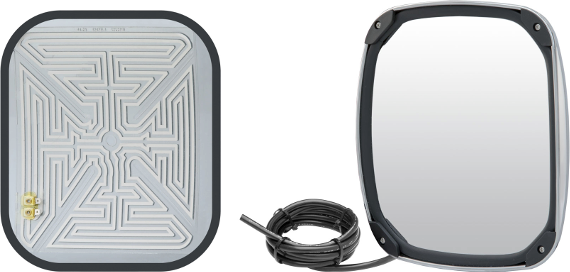 Safety for the road ahead
Aerodynamic mirrors are engineered with the safety of the driver, truck and cargo in mind. They are constructed with extra-large glass to provide a generous view behind the vehicle and to reduce blind spots for easier passing. The glass of each aerodynamic mirror is also first-surface, electro-chrome glass, meaning that it is non-glare for even more safety. Dual-vision glass and convex mirrors are also available.
RETRAC aerodynamic mirrors are available with marker lights and wiring to splice into the existing OEM wiring harness and increase visibility of the truck on the road.
Smart heating system
Select aerodynamic mirror heads are available with the RETRAC Smart heater. This heating system not only defrosts the glass in cold and wintery conditions, but it also does so with maximum efficiency.
The computer-printed heating element is designed to distribute heat evenly across the glass for maximum visibility, and it is able to detect ambient temperatures to only produce as much heat as necessary, extending the life of the components and avoiding overheating.
Multiple feature options
RETRAC aerodynamic mirrors can be purchased with two adjustment options -- manual or motorized. Adjustable glass allows the driver to angle the glass however necessary to provide ideal visibility.
The manually adjusted glass angles within the mirror simply by hand, while the motorized glass uses a four-way actuator to adjust the angle electronically. Motorized models easily splice into the vehicle's wiring, using the existing controls for operation.
Two finish options
Finding the right look for any heavy-duty truck is easy with RETRAC aerodynamic mirrors. They are available in two finish options: black or chrome. Both are constructed from injection-molded ABS plastic to be strong and completely rust-free.
The chrome option adds a bright accent to the vehicle, complementing other chrome and polished stainless steel accessories. The black finish offers a sleeker look and provides the option to be painted to easily match the color of the truck.
Easy, universal mounting
RETRAC aerodynamic mirrors are easy to install on virtually any heavy-duty truck or semi with standard mirror loops. The universal clamping system securely mounts the mirror head on tubes 3/4" to 1 1/4" in diameter.